One of my top 3 favorite destinations in the world!
I've often been asked what has been your favorite place to travel to? I've repeatedly named Alaska in the top 3 of my list! There's simply too many places to have a #1, however, Alaska will always be at the top of the list!
Whether you want to cruise or enjoy a land only package, Alaska is sure to please and I would go back and do it all over again in a New York minute!

Every step along the way offers sightseeing and touring opportunities in such a wide variety you'll never lack for choices. From whale watching, wildlife and glacier tours to historical towns and gold mines to cultural experiences to pure Alaskan wilderness adventure, you'll find much to experience and savor. From the Inside Passage to Fairbanks in the heart of the state to the frigid waters of the Arctic Ocean to the tip of the Kenai Peninsula you'll discover the best Alaska has to offer.

The highlight of my trip to Alaska was a flight to Mt. McKinley. We boarded a busch plane and took flight. Doesn't our pilot look like Jimmy Buffet? We landed on Mt. McKinley. Upon landing, we made a snow man and snow angels. How about a snow ball fight on the tallest mountain in North America? It was amazing!
If you're looking for adventure, Alaska has it from the mild to the wild. Raft a world-class river, kayak along rugged coastlines, hike or bike a mountain trail. All are available on your own or with an experienced guide. Out of town adventures include charter fishing trips, sightseeing cruises and flightseeing tours. The railroad can take you in comfort through some of the world's most spectacular scenery.
Dog Mushing- official Alaska State Sport

Dog mushing was designated the official state sport of Alaska in 1972. In April 2010, Alaska also recognized the Alaskan malamute as the official state dog. As a visitor to Alaska, there are many tours and excursions that we can book to ensure to experience all that Alaska has to offer.
Northern people have used dogs to pull sleds for centuries; once a primary form of transportation in many parts of Alaska. From this tradition came sled dog racing. Today it is a worldwide sport for both professional competition and family recreation. People come from around the world to participate in Alaska's yearly Iditarod – "The last great race."
People in Alaska treat their dogs like royalty. Their four legged best friends are wonderful and they all TRULY love their sport!

It was amazing to see Santa's reindeer in Alaska. We were able to feed such amazing creatures. They were gentle and loved to be around people and they enjoyed being off during the Christmas season. They sure do put on weight when not at the North Pole.

Of course, we all know that Alaska is famous for their Glaciers. I was able to take a 3 hour tour on Prince William Sound, located near Wittier, Alaska. Here we witnessed glacier calving (when chunks of ice break off from the glacier) and seal watching. What a remarkable witness of nature!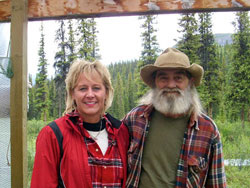 There are so many excursions to choose from in Alaska. Here is a picture of my friend, Prickely Pete. On this excursion we panned for gold…and we did find some! Not enough to run to E-Bay for. However it is a great keepsake from our amazing afternoon.
Be sure to put a trip to Alaska on your bucket list. It will be the trip of a lifetime! Call us today for more information! We are conveniently located in the Green Bay area!