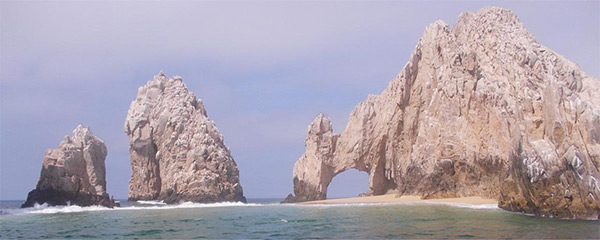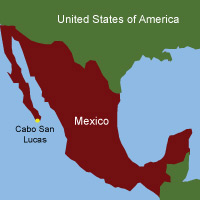 Cabo San Lucas, Mexico, also known simply as "Cabo" is a great spot for tourist and
beach goers world-wide.
Cabo is:
*Located at the very tip of the Baja California Peninsula
*Bordered by the Pacific Ocean and the Sea of Cortez
*20 miles from San Jose del Cabo
Cabo San Lucas, Mexico began as a small fishing village. Today it is one of the top tourist destinations. It's filled with adventure, fantasy and plenty of sun. There's no wonder so many people visit Cabo each year.
Cabo has a variety of beaches. From party spring-break like beaches to family friendly snorkeling beaches, you'll be sure to find a Cabo beach that fits your dream.
Snorkeling, parasailing, surfing and whale watching are all activities that you will find along the beaches in Los Cabos.
While fun to walk along and very beautiful, many Cabo beaches have an undertow. Please be safe and only swim in safe conditions. There are some tips at the bottom that should help you remain safe while swimming off the beaches in Los Cabos.
The unique combination of desert terrain, mountains and beautiful beaches make for many exciting activities and attractions for every type of visitor.
Fishing and golf are two top Cabo San Lucas attractions, but Cabo is also well known for its restaurants and top rated spas.
Whether your preference is a leisurely Cabo vacation strolling through Cabo's shopping malls and lounging on the beach, or a more exciting one filled with zip line tours over the desert and ATV rides, you'll be sure to have a good time.
There truly is a Cabo for everyone!