It's all about the Land

"I'll do anything for my clients!"
Right now I'm zipping 1000 feet above sea level. How exhilarating!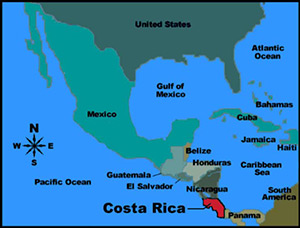 Do you want to know where the popular Jurassic Park was filmed? It was in the beautiful county of Costa Rica. Costa Rica is located in Central America. It's a country located in Central America that has unlimited tourist potential and is ranked as one of the most visited international destinations. One of Costa Rica's main sources of income is tourism.
Located on the Pacific Ring of Fire, Costa Rica has five active volcanoes. Some of these can be explored on hiking expeditions, and a volcanic eruption is a spectacular sight, the memory of which will last a lifetime. For visitors trying to decide on what to do in Costa Rica, these spectacular volcanoes are a must. Have you ever wondered what it is like walking through the rainforest canopy? The famous Canopy Tours can help you achieve your dream vacation. Costa Rica is a small country but the activities are endless. Starting with Canopy Tours and hiking in the rainforest and ending with one of the many water activities like surfing and sportfishing.
Many of the country's most stunning sights can be enjoyed on Costa Rica day trips. These short excursions are ideal for visitors who want to make the most of their time here and include exciting activities such as canopy tours, bungee jumping, hot air ballooning and horseback riding.
Canopy Tours is becoming one of the most popular activities in Costa Rica. On the tour, you are hoisted up to a platform in a tree about 50 feet up, securely tied to a zip line and then sent flying to another platform in a tree via a zip line. This is truly an adrenalin filled experience that should not be missed.
Costa Rica is quite literally a tropical paradise. More than a million visitors come here every year to explore the lush rainforests, enjoy the miles of unspoiled coastline and sample the rich local culture. Visitors can use our in-depth guides to figure out what to do in Costa Rica.
Costa Rica, which means "rich coast," is a popular destination for wildlife enthusiasts and ecotourists, and is home to a stunning variety of exotic plants and animals. In fact, some of the world's rarest and most endangered species can be found here. The landscapes and scenery of this small nation is almost as varied as the wildlife. From stunning beaches to dense jungles, Costa Rica has it all.
Whether they want to indulge in some rest and relaxation on the pristine shores of the Caribbean Sea and Pacific Ocean or enjoy some exhilarating watersports, thousands of visitors flock to Costa Rica beaches every year. This tiny country has almost 1,200 miles of beaches, boasting isolated rocky coves and vibrant coastal towns.
Home to millions of species of bird, reptile and insect, the Costa Rica rainforests offer visitors some of the most breathtaking scenery on Earth. More than 25 percent of Costa Rica is protected, and conservation of the natural environment is one of the country's top priorities.